Liberty's Connectec Category 6 Unshielded Field RJ45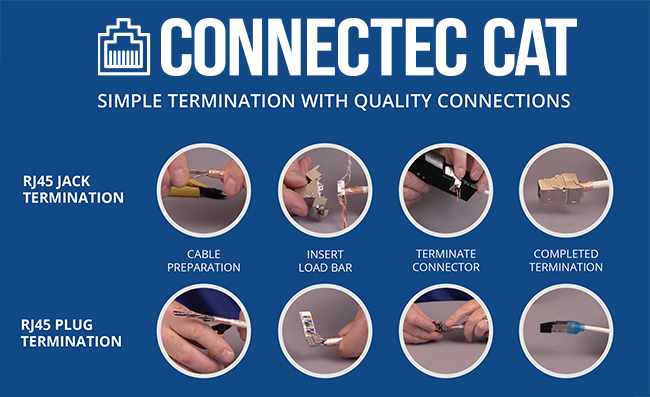 Liberty's Connectec Category 6 Unshielded Field RJ45 Connector
The Revolutionary Category Cable Termination System
From the company that revolutionized the compression connector industry and brought you ConnecTec and ConnecTec2. The best of all worlds, ConnecTec Cat delivers a simple to terminate, flexible, and solid category cable connection… all at the price point you need for your entire system. ConnecTec Cat's high-quality collection of plugs, jacks, and keystone inserts are fully ANSI/TIA-568 Compliant & UL approved.
A Complete Connection Collection
ConnecTec Cat is ready to support shielded and unshielded category cable needs, offering Cat5e, 6, 6A &7 connectors and tools that makes 90 second successful and high-quality terminations a reality!! ConnecTec Cat is ready to support daily needs in Data Centres, AV, HDBaseT, LAN, and many other applications.
Key Features and Benefits:
Easy to Terminate: less than 1-2 minutes on average!
Priced Right: Over 50% less than competitive solutions
ANSI/TIA-568 Compliant
Keystone-Compliant jacks
Tried and true 180° termination, can be terminated with or without tools
Plugs re-usable up to 5 times
UL Approved
Male 8P8C Modular RJ45 Plug
IDC Contact Style for 24 to 22 AWG TWP Cabling
No Special Tools required, just cable prep tools
Category 6 & 6A U/UTP cable formats
Strain relief boot trimmable to cable diameter
Applications
LAN 10/100/1000/10GBaseT, High Speed Balun, Digital Media
Audio, InfraRed (IR), RF, Video & Voice over IP
Any and All TWP pair cable up to 8.0mm in diameter

More from Liberty